Like many people sitting at home tonight, Chris Rainey was watching a NFL preseason football game. That's probably about where the similarities end though. Rainey was cut by the Indianapolis Colts a little over a week ago for undisclosed reasons. While watching the Colts play the Jets tonight, Rainey used Twitter to show that he may be a little bitter over his release.
When former teammate Dan "Boom" Herron scored a touchdown against the Jets, Rainey wrote: "Nice TD Boom even tho u was in the hallway with me that nite when we was horsing around with the fire extinguisher. Man up like i did." The running back continued, "Yea im piss watchin the colts game when i should be out there too. Even tho i didnt break no f**kin team rules, not even."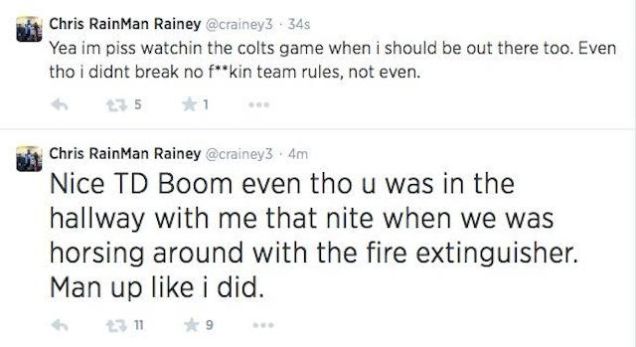 Rainey has since deleted the posts from his Twitter account, though I imagine some damage is already done. When you've been recently cut for disciplinary reasons and are looking for a new team, making headlines with Twitter rants probably doesn't make getting work any easier.