The Steelers lost to the Tom Brady led Patriots tonight in New England 28-21. At times it looked like game was within reach of the Steelers. Other times, it looked like a blowout wasn't far away. This is a game the Steelers could have, no- should have won. Pittsburgh left a lot of points on the field tonight, and that is something you cannot do against the Patriots.
There were lots of self-inflicted wounds tonight. Too many to list really. It ranged from unnecessarily getting cute on the opening drive when the offense was cutting through New England's D like butter, to stupid holds that ended up being drive killers. Switching sides for a moment, you've got perhaps the biggest offensive weapon in the league (Gronkowski) going completely uncovered somehow. Later, he'd somehow be matched up one on one with Terrence Garvin in the endzone. Garvin did seem to be wanting a time out, and rightfully so, as that matchup is a touchdown every time.
Honestly, the outlook for the defense doesn't look as bleak as many would have believed. There is work to be done for sure, and there were definitely some head scratching calls and miscommunications tonight. Don't get me wrong, there were times when the secondary looked lost, and Tom Brady might have been doing a crossword once or twice during that franchise record 19 straight completions. At the end of the night, Gronkowski scored 3 touchdowns and the Steelers D managed to hold the Patriots to just 28 points. It wasn't all bad. Jarvis Jones looked improved. Shazier blew up a run play or two. Brady got sacked twice, once by Will Allen.
I can't explain the strange rotations we saw tonight, however. It seemed like Butler was throwing in every combination of personnel he could think of (including Robert Golden who covered Rob Gronkowski). Brandon Boykin did not see the field on defense, though, and on one play, the Steelers only had 10 men in on the play (Cortez Allen didn't make it I believe).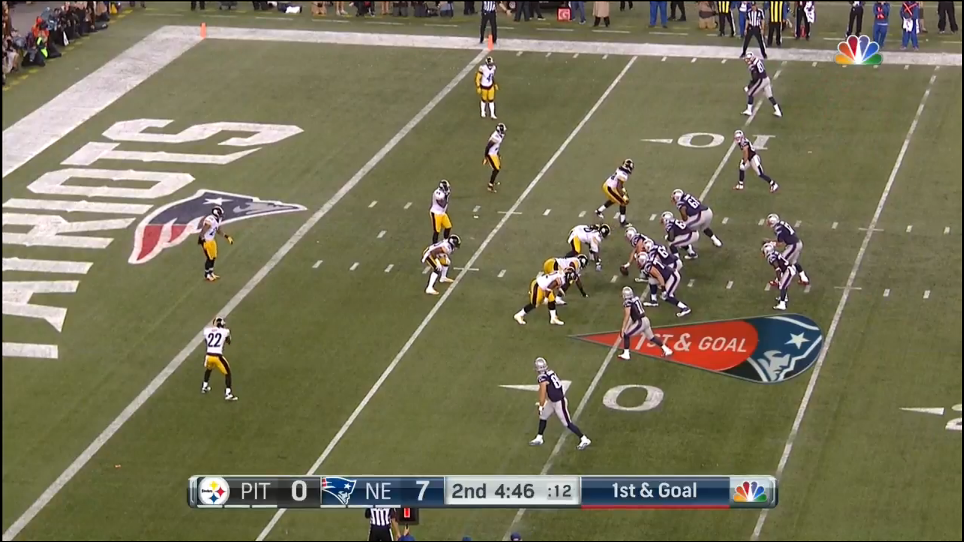 The bigger problem though, was scoring for the Steelers. Newly acquired kicker Josh Scobee missed not one, but two of his first attempts tonight. The first was wide right from 44 yards. The second also wide, this time from 46. I'm not sure Suisham would have made those in the wet conditions either. Darrius Heyward-Bey had a free touchdown come to him as he sat on the side of the endzone waiting for it, but part of his foot was out of bounds.
DeAngelo Williams was a beaming bright spot on offense. He ran all over the Patriots tonight totaling 127 yards on 21 attempts for a 6.0 yards per carry average. It was his first game over 100 yards since 2013.
Ben Roethlisberger made his 159th career start tonight surpassing Terry Bradshaw for the most as a Steelers QB.