Le'Veon Bell left tonight's game early with what looked to be a scary knee injury. As you can see in the picture below.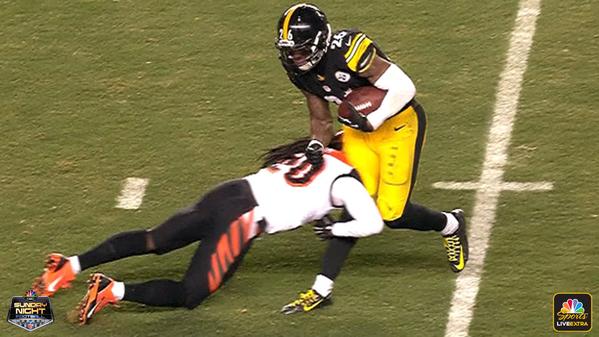 Afterwards, Bell was able to leave the field on his own, but was pretty distraught on the sideline while trainers looked him over.
After the game, Coach Tomlin relayed some positive news. "Structurally it appears to be fine," said Tomlin. "Thankfully it doesn't appear to be anything major." The team is waiting on MRI results to see if he has any ligament or connective tissue damage. Passing initial stability tests is a good sign of course, though.
According to Dale Lolley, some of his teammates expect to have him on the field for the Ravens game.
A couple of different players in the #Steelers locker room said they expect Le'Veon Bell to be OK for next week. We'll see. The game is Sat.

— Dale Lolley (@dlolleyor) December 29, 2014
After the game, Bell left the lockers without an air cast or crutches, which is very good news.
Le'Veon Bell just walked out of Steelers' locker room. Right knee packed in ice and walking slowly but no crutches or brace.

— Scott Brown (@ScottBrown_ESPN) December 29, 2014
We'll have to play the waiting game for a day or two before we hear more.