It's being reported by 93.7 The Fan, and multiple media outlets, that the Steelers have banned Safety Mike Mitchell from social media. The reported banning centers around a heated Twitter exchange after last night's victory over the Titans.
First, some immature fan tells Mitchell what he thinks of him via Twitter during last night's game.
@MikeMitchell34 you are the worst signing in franchise history. Please retire and give back the money you are stealing

— tom kat (@Tomkatf14) November 18, 2014
He allegedly gets a direct message (private message for you non-tweeters) reply from Mitchell. The Twitter user,  @Tomkatf14 tweeted a screenshot of the DM to different crew members of the 93.7 The Fan.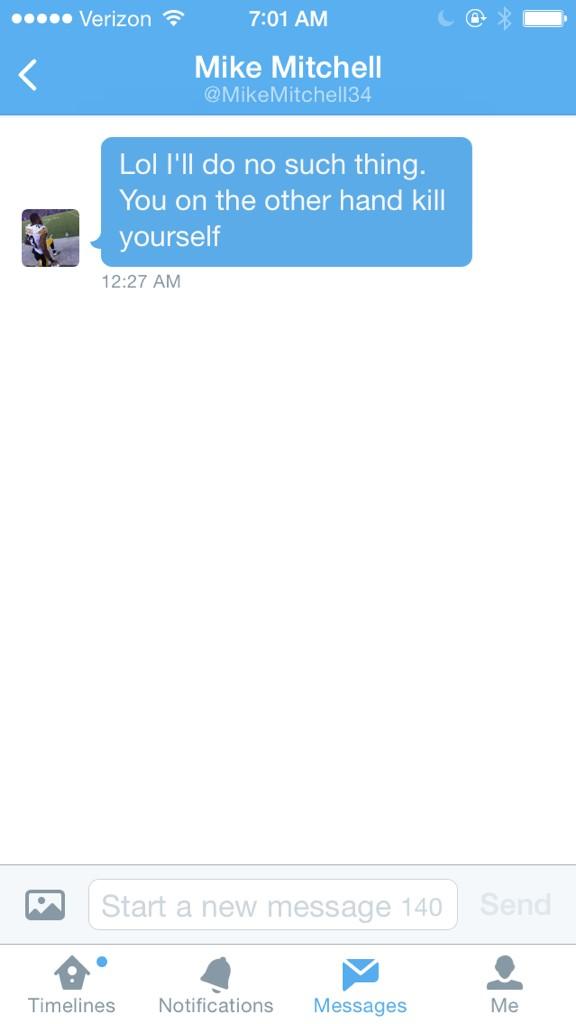 This wasn't the only alleged fan who received a mean reply from Mitchell. Another user posted this DM, but after perusing their timeline, it's pretty evident that they deleted their initial tweets to the Steelers Safety.
A couple things here. There's a bit of bad journalism that deserves some finger pointing. Using the headline 'Mike Mitchell tweets go kill yourself to fan' is misleading, and probably purposely so. He didn't "tweet" that to anyone, he private messaged it (allegedly). There's a huge difference, and I'm sure the author, though unnamed in the article (oddly enough), is well aware of that. Furthermore, posting these screenshots of Mitchell's DM's without posting screenshots to show the context is a little bush league. (See what I did there?)
Look, I'm not condoning Mitchell's actions. Any professional athlete should know that Twitter and Facebook are riddled with trollish fans, and if they can't refrain from sinking down to their level, then they should stay away from social media altogether. Having said that, this guy (kid?) Tomkat is an ass. An ass who went whining to media members hoping to get attention- and he got it.
While the author might think Mitchell's comments were "disturbing", it may help he/she/robot to know that "kill yourself" is an extremely popular thing to say on social media. Not something a Pittsburgh Steeler should be messaging to a "fan", but highly doubtful he meant it in the literal sense. From UrbanDictionary: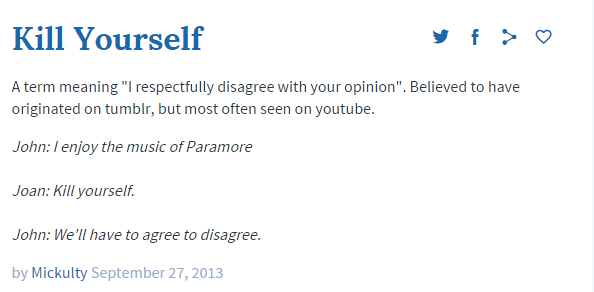 Lastly, the Steelers can't "ban" Mitchell from using social media. They can ask him nicely to not use it or behave a certain way, but they don't have the power to outright ban a player from using social media. The only authority the league has against social media usage prevents players from posting on social media 90 minutes before a game until following the conclusion of media interviews after a game. In theory, a team could use the personal conduct policy to discipline a player if they deemed their actions to be unbecoming.