If you would have asked me a week ago who was going to be involved in the first fight of training camp, my answer would have likely contained the names of an offensive and defensive lineman. I would have been very wrong. Tonight's skirmish took place during a feisty round of backs on backers.
The initial tussle wasn't very newsworthy. Little fights break out all the time during these drills and throughout training camp. Heck, there were more fights in OTA's than there have been so far in camp. Le'veon Bell was back in pads tonight and he was first up to defend the quarterback. The role of quarterback was once again played by Joey Porter. Porter was reportedly jumping and giving chest bumps to the linebackers when they'd get the better of a running back.
Back to the fight…Bell was going head to head with LB Vince Williams. The 2nd year RB beat Williams on the first match-up. On the second, Williams drove Bell to the ground. One reporter said that Williams was pinned on top of Bell, and was grinding his facemask into his. Another reporter said that Williams' facemask had so much force applied to it, that it was pulled through two of the retaining clips.
Here's where it starts to get interesting. The other half of the double LB backfield didn't like what he saw. Even though he wasn't practicing tonight, and was only wearing shorts and a shirt, LeGarrette Blount came running over and dove on Vince Williams shoving him off of Bell. From there a large scuffle broke out, which involved many of the linebackers, running backs, and tight ends. The highlight of it all was arguably when none other than Joey Porter went in and pulled Blount out of the pile. Various reporters said that the two were face to face jawing. A couple thought that Porter and Blount were going to throw down, but the two went their separate ways. Afterwards, Blount and Williams continued to express their grievances at each other from across the field.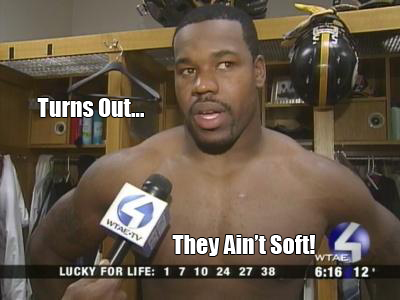 It's awesome that Blount, a guy who is new to the team, is sticking up for his teammate. Blount has been known to have a bit of a temper though, so that's something he'll want to keep in check.
Bell was involved in the team drills tonight, and was a target of at least a few passes. Chris Carter filled in at ROLB for Jarvis Jones who was out tonight. Jones had his leg wrapped in a way that suggested he had a groin injury, and coach Tomlin later confirmed it saying it was nothing serious, and the team was just being cautious with him. There sure is an abundance of groin problems this summer. Jordan Zumwalt was seen doing sprints tonight, so hopefully he'll return to action soon.
Referees were at practice again, and they weren't conservative about letting the yellow hankies fly. Several flags were thrown tonight. Shaq Richardson, Antone Blake, and Ike Taylor were all reportedly called for interference. Taylor's came while trying to stop Antonio Brown from making a big play. Several defensive holding calls were made as well. The offensive line units were reportedly much more prone to drawing flags, as multiple flags were thrown for what were mostly false starts.  Mike Munchak must have loved that.
Big Daniel McCullers was used as the special teams wedge tonight. He reportedly made his block on the first attempt, but got his feet caught up on the second, and went to the ground. DE Nick Williams has been hasn't garnered very much talk so far, but he had a couple nice run stops tonight, and followed them up by pressuring the quarterback. Speaking of quarterbacks, I'm looking forward to seeing Jones and Kay during preseason games, because both have warts. I keep hearing how slow Landry is to get rid of the ball. That's going to be a problem for him against real opponents. One throw of Ben Roethlsiberge's had fans cheering tonight. He overthrew his intended target and Troy Polamalu made a awe inspiring interception by getting his fingers under it just before it hit the ground. Fans were also cheering when a pass found Markus Wheaton, who made a fingertip grab while dragging his toes to stay in bounds.
The Steelers resume practices tomorrow afternoon. The ever exciting goal line drills might take place, or they might wait until Sunday depending on how Mike Tomlin feels about tonight.