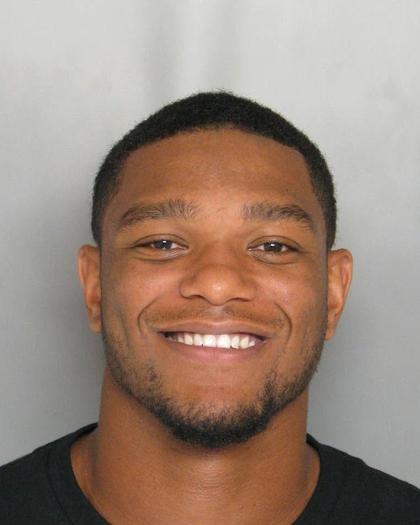 It's been a busy offseason for the Baltimore Ravens. Usually you associate the phrase 'busy offseason' with free agent signings, coaching staff turnover, contract extensions, and things of that nature. In Baltimore's case, it mainly refers to players being checked in and out of the Iron Bar Hotel.
Last night, Ravens cornerback Jimmy Smith was arrested by Baltimore police officers for disorderly conduct. The incident occurred at The Greene Turtle in Towson, MD. Police arrived at the bar in response to a call about an unconscious woman in the bathroom. The call was made by the bar's general manager according to The Baltimore Sun.
The responding officers said that Smith was in the bathroom with the unconscious woman when they arrived. The woman was apparently intoxicated, and Smith was assisting her while she was vomiting in the sink, according to police. Smith told the officers that he had done a photo shoot with the woman earlier in the evening. According to the police report, the officers later found what they suspected was a bag of cocaine in the woman's purse. She wasn't charged as of this writing.
Police said that after the paramedics arrived, officers repeatedly asked Smith to stay out of the way and he refused to comply, stating several times that he was helping the woman. Police said Smith became argumentative when they asked him to step into the hallway.
According to the police report, Smith was asked three times by an officer to leave the restroom before being escorted out to the hallway. Smith allegedly cursed at the arresting officer and asked him "What the **** are you gonna do?" When told again to leave, Smith replied: "**** you. What the **** are you gonna do?" Officers then placed Smith in handcuffs. According to the police report, at the precinct Smith told the officer: "The only reason you arrested me is so you could get on the news.You will see this tomorrow on ESPN." The Ravens cornerback was released later that evening, and a court date is pending. The woman was sent to the hospital.
Smith's arrest makes the fifth Ravens player arrested this offseason. The others who have been arrested so far are RB Ray Rice, (felony aggravated assault), OL Jah Reid (misdemeanor battery), WR Deonte Thompson (felony possession of marijuana) and RB Lorenzo Taliaferro (misdemeanor destruction of property, drunk and disorderly). One has to wonder at what point the media will start asking, "Has John Harbaugh lost control of his team?"