In what you might call a surprise move, the Steelers have released RB LeGarrette Blount. Blount reportedly left the field last night before the game was over due to being unhappy with his lack of playing time. According to reports, Joey Porter saw Blount leaving the locker room early and called him back in. Blount did come back in briefly, but ultimately left before some teammates finished post game interviews. Here you can see Blount fully dressed before teammates are out of their uniforms.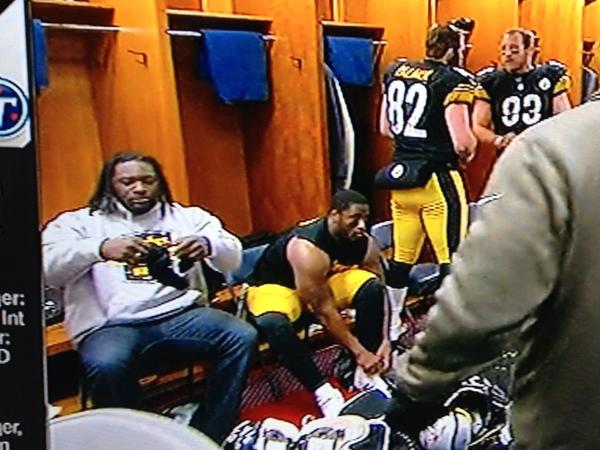 Leaving your teammates before the game is finished is pretty unacceptable at any level of sports. As inconvenient as this is in terms of running back depth, you have to applaud Coach Tomlin for making such a swift and decisive move on this. To quote Ike Taylor from his radio show this morning: "Aint nobody bigger than the Steelers emblem."
Mike Tomlin released the following statement about the cutting of Blount: "We believe the decision to release LeGarrette is in the best interest of the organization and wish him the best of luck."
The release of Blount will clear the team $317,647 in 2014 salary cap space. The move also brings $475,000 in dead money from the remainder of his prorated signing bonus on the books.
The Browns waived Ben Tate today, but I would imagine the odds of him coming to Pittsburgh are very slim to none. One league reporter said that she was told that a Steelers employee called a Browns employee this morning inquiring about Tate's release, but I'd take that kind of talk with a grain of salt.
Behind Le'Veon Bell, you've got Dri Archer, FB Will Johnson, and RB Josh Harris on the practice squad. I'd expect a move to be made soon.