A solid all-around performance produced our most convincing win since… well, since long, long ago.
264 yards rushing, no turnovers from our offense, 12 plays for more than 10 yards (including an 81 yard run by Bell and a 50 yard run from Blount), with our O shut down for 3 & outs only twice in the game. We finally got our first two takeaways of the season, a TD by our special teams, 3 sacks and consistent pressure. That's why we won the game yesterday.
We saw a smarter and much more adequate O & D Playcalling, according to our strengths. Getting into specifics:
Our Offense played up to our strengths while lessening exposure to our weaknesses:
Short, quick passes kept Ben clean and helped us move the ball, opening up the running game too. Even though during the 1st half the Steelers only got FGs, being able to have ball control and sustain long drives wore down Carolina's Defense for the 2nd half. Kudos to coach Haley for not giving up with the run.
Starting with the Oline, our offense had a much needed breakout performance. With DeCastro and Pouncey leading the way, Cody Wallace filling in for a banged up Foster (who was inactive), but particularly with Gilbert opening lanes all night, either for Bell or Blount, our offensive line shined the way they needed to to bounce back. Even though Beachum allowed a sack and committed a penalty early in the game, this unit provided a solid performance against what was supposed to be one of the best front 7 in the entire NFL. DeCastro needs to understand he's a veteran, and can't get called for penalties for what happens after the play. I mean, a holding penalty here or there will be called sporadically.
Bell and Blount can be a great 1-2 punch, relying on good blocking. We need to see this consistently and keep these guys out of trouble (and you know what I mean). Bell could face a 2 week suspension if his case isn't solved before Nov 1st. Bell is now a maturing running back, who has the necessary patience to wait for a lane, which he reads with exceptional skill. Blount looked like a game closer, something we have missed since… well, since 36 was still here.
Antonio Brown had another solid performance, with a couple of clutch catches and finding a way to get open while Ben was scrambling from the pocket (Yes, I know it seems that a copy/paste for this line each week). Markus Wheaton delivered, and was half a shoe away from scoring his first TD as a Steeler. By the way, why wasn't it called a penalty? When a player gets out of bounds and is the first one to touch the ball, it's a 5 yard penalty, repeating the previous down, so it should have been 3rd & G from Carolina's 11 yard line.
Justin Brown made solid blocks all night, and managed to grab 2 passes for 10 yards, playing most of the snaps as the 3rd WR, while Darrius Heyward- Bey was most notable for drawing a 42 yard pass interference call, setting up our first FG.
Where's Lance Moore? Not hurt, but was in for only 1 play. It looks like Justin Brown's blocking ability and DHB's deep threat speed kept Moore from entering the game (also, it was his first week of practice recently, so he must have been off-tempo). He'll get his reps, and will be widely used in the next couple of weeks.
As for our D, something changed and it was pass-pressure.
McLendon, Kiesel and Heyward created pressure by themselves, and often helped by blitzes by both ILB and OLB. Our defense was able to stop the run (Carolina only rushed 10 times for 42 yards) after giving up a mile to both Cleveland and Baltimore, without having to stack the box.
Jones and Worilds coupled for the inflexion point in the game, creating a turnover deep into Carolina's territory. Moats filled in for an injured Jones with an A performance, creating pressure and getting his first sack as a Steeler. This might have gone unnoticed, but we had no substitute once Jones was out and Moats was in for him. If he had gone down, Timmons could had shifted to OLB with Williams getting ILB reps.
Timmons was all over the place, and while you can blame him for injuries to Shazier and Taylor, it's a product of his intensity. Shazier was having a good game.
Cortez Allen is not helping the FO look good after the contract they gave him, while he seemed to be a bit late when targeted and failing to intercept a potential game-changing pass for the 2nd consecutive week.
William Gay may be the most reliable DB on the roster right now, and that says a lot of how others are playing. He covers and gets close to his receiver. Even though he has an issue with his tackling technique, where he tries to tackle without grabbing the ball carrier. Remember AP's hit after Gay tried to tackle him without having an adequate approach? Coach Lake must work on this if he's going to start again at CB.
Antwon Blake is not the answer at 5th DB (and I'll elaborate later).
Mitchell and Polamalu were absent against the run, since they were not playing close to the line of scrimmage, trying to keep the ball in front of them. While that helped not giving up the long ball, they were not even close to tackling Olsen on this long TDs. Polamalu is aging, and we know that, but Mitchell still hasn't made a case for himself being Clark's replacement.
Our special teams delivered, and were special: with Suisham converting 3 FGs (25, 42 and 45 yd), extending his consecutive streak to 23 converted attempts, and recovering a crucial fumble for a TD after a muffed punt (which, by the way, was led by a 59 yard punt from Wing, with the Steelers up by 10) which helped ice the game.
Penalties are still an issue, part III. While some of them are lack of awareness and concentration (false starts, illegal motion), we also had one penalty nullifying a sack (for a loss of 9 yards) by Heyward. We continued having penalties on STs, an unncesary roughness from DeCastro, two of our TEs (none called Miller) had offensive pass interference calls (one of them being a very questionable call). Methinks the over/under for total penalties for the year should be set at 150, and will get some gamblers taking the over. This issue needs to be fixed before it proves costly. This was the third consecutive game where we had an alarming amount of penalties.
On the injury front:
Shazier, Jones and Taylor's absences should be read differently, but do not expect us to enter the trade market: Trading an offensive weapon (which are the only valuable options we can effectively trade right now) will only risk talent development to cover an immediate need.
• We should promote from within to cover Shazier's absence for 3-4 weeks (Spence and Williams at ILB, still having Garvin as 3rd option, not needing to sign a FA) and Moats at OLB.
• Jones has been designated to IR with ability to return (after 8 weeks), and we need a FA, which means we'll need depth at the position. Moats and Worilds will handle the duties, but after them right now we only have the option to move somebody from ILB, play some hybrid position (as last year Polamalu did at ILB) or using more nickel packages with 3NT/DE, 2ILB and an OLB. Resuscitating Harrison's career didn't look to be an option until now. He's already a fan favorite, and will help Coach Porter develop the young guys. How much gas does he have left in the tank? Well, it seems he has not even a scratch from last year's tenure with Cincy, and, for sure, will be playing with a chip on his shoulder. Other options could be promoting from practice squad, but knowing a bit of LeBeau's resistance to start unproven players, JH will be the most suitable option right now.
• Taylor's absence will be felt for what he makes us play at CB#3. Between him, Allen and Gay we had somehow decent coverage (no ball hawks). But without one of them, we have no real 3rd CB, as Antwon Blake is not the answer for the immediate future. Expect Shamarko Thomas getting reps the next following weeks, and Shaq Richardson to be promoted from practice squad, so one of them becomes the 5th DB against passing packages from opposing offenses.
• But his absence will also be felt because of what he represents to the team, Coach LeBeau, Coach T and Polamalu. He has that special charm, and is a locker room favorite for both coaches and veterans. My only experience near him occurred last year, at Oakland, while they were in warm-ups. When he heard people screaming for him, he got close, signed some stuff and even posed for a picture, making him a fan favorite instantly for the guys who witnessed that attitude from him.
An IR designation might mean the end of his career with the Steelers (and most probably, in the NFL). A kid from Louisiana, who grew up playing as a running back, cornerback and placekicker who made a 12 year career with the Steelers had his most notable tenure during the postseason in January 2006, where he had an interception in the AFC Championship game vs Denver, and another one in SB XL. If you look up under-appreciated in the dictionary, his photo will show up someday. Here's hoping he's able to somehow come back this season, at least as a farewell. It's really hard to see a guy's career end with an injury, particularly a long-tenured starter who has stayed out of trouble his whole career. Watching Coach T yesterday kissing his head was really an emotional moment.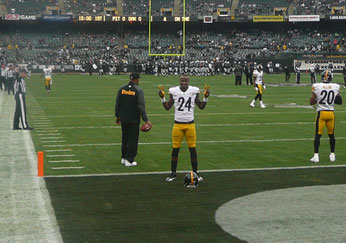 By the numbers:
0: Interceptions by Steelers Defense this season
1-8: Record of our 3 following opponents combined
1: Snap played by Lance Moore
1: Sack allowed
2: Turnovers created
3: Sacks from our D
19: Consecutive 5 reception-50 yard games for Antonio Brown (ties NFL Record by L. Coles)
23: Consecutive field goals from Shaun Suisham (Steelers Record)
28: Years since the last time two Steelers running backs had 100 yards in the same game
31: Penalties for the Steelers this season so far (2nd in the league behind SF's 36)
264: Rushing yards, the most in the Coach Tomlin era
461 All-purpose yards for Le'veon Bell so far